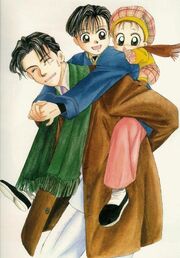 Welcome to the New Baby and Me Wiki!!!

[

]
Baby and Me (Aka-chan to Boku) Wikipedia is about anything to do about the manga/anime Baby and Me (Aka-chan to Boku) by Marimo Ragawa! The wiki format allows anyone to create or edit any article, so lets all work together to create a great database for fans of Baby and Me!
Baby and Me
[
]
Baby and Me (Aka-chan to Boku) is a shōjo manga by Marimo Ragawa. It was originally published in Japan by Hakusensha, and was later published in English by VIZ Media,and serialized in the magazine Shojo Beat. It received the 40th Shogakukan Manga Award for shōjo in 1995. The series was adapted as an anime television series in 1996.
Baby and Me describes the detailed life of an elementary school kid,Takuya Enoki, raising his little brother, Minoru, after his mother dies in a car accident, and his father has to work.
There are 18 volumes of the manga (1991-1997), and there are 35 episodes of the anime (1996-1997).
Story
Takuya Enoki loses his mother, Yukako when she dies in a car accident. Takuya now lives with his father, Harumi, and his baby brother, Minoru. Takuya's baby brother is only two years old and requires much care. Although Takuya is only a fifth grader, he cooks, cleans, sews, scolds, and does everything that is normally a mother's job. Between his housework and looking after his baby brother, Takuya begins to feel a helpless gap between his friends who have fun everyday after school. Neighbors blame him for Minoru's constant crying. His stress gradually builds up and bursts at a point. Because of a mistake Minoru made, Takuya reacts violently. He cannot help feeling upset over Minoru, who is stressing him and taking up all his time.
One day, when Takuya picks Minoru up from preschool, he starts to walk faster imagining what it would be like to leave his little brother behind him. But soon, Takuya realizes what he has done and runs back. He finds Minoru with his eyes full of tears and a brutal dog is blocking Minoru's way. Takuya dashes in full speed and saves his little brother. After coming home and seeing Minoru sobbing, Takuya realizes that Minoru cries because he is just lonely and becomes ashamed of himself. From then on, Takuya learns to love his little brother as family and his long life story of being a mother and a brother at once begins.
As time pass by, Takuya Enoki gradually adapts to his role in the family. Some of his friends in school like Akihiro Fujii and Tadashi Gotoh, have little brothers and sisters that go to Minoru's preschool, and are Minoru's friends. At the end of the series, while trying to find Takuya, Minoru is hit by a car, and undergoes major surgery to keep alive. Luckily, he just barely survives.
Latest activity
[
]